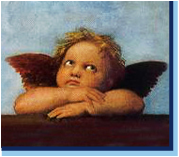 The AngelPics Project
Hollywood FotoFix Digital Studios is proud to sponsor the AngelPics Project. The AngelPics Project has been created to donate photo retouching resources to the parents and families of a stillborn baby.
Photographs of stillborns and newborns who don't make it home from the hospital are usually very difficult to look at, and are usually the only image that the parents have of their child. Through this free service, our skilled digital artists work with a digital copy of your original, eliminating medical equipment, removing marks and bruising, even replacing the background if desired.
How do I submit my angel picture to be retouched?
There are two ways in which to submit your picture to be digitally retouched:
Using our online digital retouching system, you can from the privacy of your own home, upload your picture to be restored. All you need is a scanner and an internet connection to upload your image to us. To begin, Click Here.


If you do not have a scanner, or would rather trust an imaging professional to scan it for you, you can to visit your nearest Hollywood FotoFix Dealer that participates in the AngelPics Project. Just tell them you were referred by Hollywood FotoFix for an AngelPics photo. The dealers will also provide a free 8x10 print with your restored picture. To take advantage of one of our dealers - use our photo restoration dealer locator tool to find the closest dealer to you.