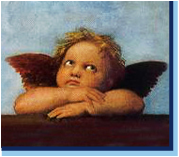 The AngelPics Project
Hollywood FotoFix Digital Studios is proud to sponsor the AngelPics Project. The AngelPics Project has been created to donate photo retouching resources to the parents and families of a stillborn baby.
Photographs of stillborns and newborns who don't make it home from the hospital are usually very difficult to look at, and are usually the only image that the parents have of their child. Through this free service, our skilled digital artists work with a digital copy of your original, eliminating medical equipment, removing marks and bruising, even replacing the background if desired.
How do I submit my angel picture to be retouched?
Using our online digital retouching system, you can from the privacy of your own home, upload your picture to be restored. All you need is a scanner and an internet connection to upload your image to us. To begin, Click Here.